"The Cycle" to Successful Real Estate Investing
You will, with The Cycle, exchange inefficient real estate investing methods with proven methods that work. In The Cycle, Dennis J. Henson shares the step-by-step process that he has used to build his own real estate investing business.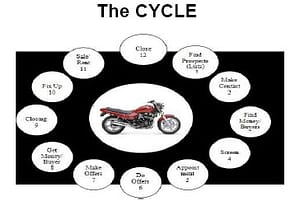 To become a successful real estate investor you need to understand the strategies of completeing deals. From Dennis J. Henson's "Wholesale Flipping Homes " you will learn:
Twelve Steps of The Cycle Exchange


#1 Lead Generation
#2 Make Contacts
#3 Find Money or Buyers
#4 Screen Properties
#5 Appointment
#6 Prepare Three Offers
#7 Present Offers and Sign
#8 Secure Money or Buyers
#9 Closing
#10 Fix-up
#11 Market, sale or rent
#12 Closing
Learn The Cycle and exchange failure for success.