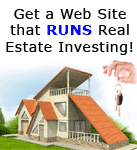 Real Estate Investors web Sites
Do you have a Real Estate Investor Website that RUNS your real estate investing business? If not, you can now get a real estate investing website that makes a bold statement and delivers results.
(CLICK HERE TO WATCH VIDEO)
You will get a fully database-driven top-notch Real Estate Investor Website, controlled from a point-n-click admin panel. Even if you are new to computers, you will find this easy to understand and simple to manage.
Here are just a few of the great features you will get with your new Real Estate Investor Website:
You may change the design as you wish any time from numerous designs provided.
The site is fully adaptable to suit any investing business model

Your website will be delivered ready for business, fully configured for you!
Motivated sellers are delivered pre-screened and pre-negotiated for you.
Never again forget to follow up with a seller and lose a deal! Your real estate investing website will remind you when to follow up!
Even more importantly, your website will remind you of any event with your properties, buyers, sellers or leads so your busy schedule never compromises crucial follow-up so essential to closing deals efficiently.

The website will automatically send pre-set and timed follow-up messages to your sellers, buyers list, investor buyers list and private money investors. This will free up your time.
Your Real Estate Investor Website will let you list houses for sale including Google maps, pictures documents (such as comparable sales or contracts) and even YouTube videos
You can add extra pages as you wish, such as:
Create a landing page ("squeeze page") and make it the home page for marketing campaigns
Create a new page that better describes your business, e.g. Luxury Homes or "We Buy Notes" and make it your home page
Display MLS listings or pre-foreclosures on your website
Create an entirely new website with new pages and content!
ou can quickly estimate repairs, market value and profit potential before you make an offer! Ever offered too much for a house?
It also allows you to create any type of form in order to collect any information on your website, and has automated, unlimited follow-up autoresponders that are crucial to converting leads into sales.
…and much much more!
HERE'S HOW TO GET IT!