This is Dennis Henson, and there is great opportunity on July 16th & 17th, to learn the ABC's of Apartment Investing.  My friend Brad Sumrok, who I have known for many years,  is conducting his Apartment Training Seminar "Rat-Race 2 Retirement", and he is extending an invitation for you to come join him for a weekend of Learning and Networking with over 350 other apartment investors.  It's happening all  right here in the Dallas area at the Addison Conference Center!
See the details below from Brad, and Secure your Seat Now before he's sold out by clicking here –>>RatRace2Retirement.com
Happy Learning! ~ Dennis Henson
In 2015 alone, Brad's Students purchased 25 apartment buildings in 5 states totaling 2,692 units. Total purchase acquisition volume was $106,140,000, and $34,264,000 in capital (mostly other people's money) was used to buy these properties.  
Most of them started with NO EXPERIENCE when they attended his Training Seminar. If you want to learn how to do this, don't miss out on his next Weekend Training Event!
Retire in 5 Years or Less
Live The Life You Deserve
Get Out of The Rat Race
Be the Envy of Your Friends and Family  
Secure Your Seat NOW!
 

Apartment Investor Weekend Training
"Rat-Race 2 Retirement"
July 16th & 17th, 2016
8am-6pm Dallas, TX
CLICK THE IMAGE BELOW TO SEE IN 107 SECONDS
WHY YOU SHOULD ATTEND MY WEEKEND TRAINING EVENT JULY 16TH & 17TH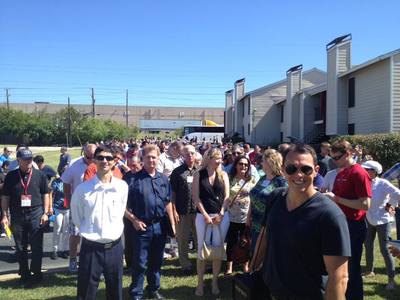 A message from Brad:  
I know these sounds like bold claims. Some would say they are too good to be true, and are just marketing B.S. I would be skeptical too, especially after getting 2 degrees, and spending 17 years in the corporate rat-race.  Except, I have done all of these, and so have many of my Students. Plus, so many more are on-track.
As a friend of Dennis Henson, I would like to invite you to my Apartment Investing Training Weekend!  All you need to do is click on the link below to register, and put Dennis Henson as the Referral Source.
We are all regular people just like you. Most started with no previous real estate investing experience and didn't know where to start… most had full-time jobs, and didn't think they had the time, and most  didn't have the money they needed to do the deals. Some have limited personal funds to invest, and others don't have great credit…but they all made a simple decision to LIVE LIFE ON THEIR OWN TERMS, and ATTENDED my weekend Intensive Apartment Investor Training that I call "Rat-Race 2 Retirement".  And, they implemented what I teach, and now they are doing it themselves.
In fact virtually EVERYONE CAN ACHIEVE THESE RESULTS, and it all starts with a simple decision to SECURE YOUR SEAT.
You will need to RSVP at my website by Clicking Below.
Click Here to Secure Your Seat>>   

I strongly encourage you to come with someone who is supporting your Goals..a Spouse, Family Member or Business Partner, or someone you care enough about to enable them to learn what you will be learning…direct your Guests to my Website Page WWW.RATRACE2RETIREMENT.COM or FORWARD THIS EMAIL TO THEM!
CLICK HERE TO FORWARD >>  
Many who have attended this Event have said it is worth Thousands of $$$….they ask me why I give so much and charge so little? The simple answer is, I will never forget that day back in 2005, when I retired from my $120,000+ Corporate Job after only 3 years of Investing in Apartments…that was one of the best days of my life! Well, I want you to have the same…I want you to enjoy the Income, Freedom, and Security that my wife and I have, and that so many of my Students now have. To Live Life Life on Your Own Terms, to have Money Rolling In & Freedom Rolling Out…to Have Your Cake and Eat It Too…(Who came up with "you can't have your cake and eat it too?) Cake was meant to be eaten…probably some middle-level frustrated corporate employee who is going along to get along, working for the weekend, struggling to get ahead…maybe it was the same person who said "money doesn't grow on trees"…you get the point.
We are less than a month away from this Event and the seats and THE ROOM WILL BE FULL…there are limited number of seats available.   Once the venue is full, I will no longer accept RSVP's…so RSVP right away and make your travel plans!!!! My previous R2R in March 2016, SOLD OUT and I could not accept several folks who waited to the last minute. This will be the LARGEST and MOST COMPLETE Multifamily Investing Training Event in the USA!
The Event Venue is the Addison Conference Centre 
15650 Addison Rd, Addison(Dallas), TX  75001
 We will have the entire venue space for this event! If you are need of a hotel, here is a link to several hotels that are either within walking distance to the venue, or a short drive:  https://addisontexas.net/index.php?section=addison-hotels
You Want To Be At This Event. Quite simply, I reveal the processes & mechanisms that have enabled me, and many others who have embraced my Training and Mentoring, to consistently achieve Double-Digit Returns and increase their Income, Freedom and Security. Many are able to retire in just 3-5 years, or less after beginning to invest in apartments. For 16 Hours, I personally walk you through the Simple, Secure Step-by-Step Process that I have used to Retire. Twice in 7 Years, I have become the 2012 NAA Investor Of the Year, and Make Millions Of Dollars by Investing in Apartments. Specifically I will reveal:
How to Locate Deals Including "Secret" Off-Market Deals
How to Evaluate Deals Accurately and Safely So That You Will Never Pay More than a Deal is Worth
The 3 Things You Need to Do Before Investing
How to Buy and Control Deals with Hundreds of Thousands of $$$ (or Millions) of Other Peoples Money
Making Offers that are more Likely To Be Accepted
How to Negotiate Win-Win Deals and Be On Every Broker's Speed-Dial List
Due Diligence – How to Make Sure The Deal Is a Good One
Rehab – Where To Get the Best Bang For Your Buck
How to Secure Financing even if you don't have all the Money or Credit Needed
AND SO MUCH MORE, like
Networking with Hundreds of Other Apartment Investors. Imagine meeting hundreds of other people, who are interested in investing in Apartments. Many of my Advanced Students will be there too!
Meet Members of my Personal Team (my Rolodex) who Provide Services to Me and My Student Apartment Investors
Lunch is Included Both Saturday and Sunday
All of this for ONLY $97! Make The Decision Secure Your Seat Today, and Begin Living Life On Your Terms!
Oh, and I Strongly Recommend the VIP Option. VIP's will have their own Registration Area, Priority, Classroom-Styles (Table) seating in the training room, Priority Seating on the Bus Tour, and a BONUS 30-Minute Session with Brad. Imagine all of that for only $100 more…did I say I strongly recommend that?  Click the VIP PASS button to register!
Click Here to Secure Your Seat!
If that's not enough…I have managed to pack even MORE…like "Success Stories" from students just like you who, as a result of my training and mentoring, were able to successfully purchase a multifamily property after starting with no multifamily experience.
Oh, and did I mention there will be a BUS TOUR on Sunday? Yes that's right! During this Event we will go in the field and visit  Apartment Communities owned by me, or my Students. You will get "behind-the-scenes" access to properties so you can see exactly what it is like to own or invest in a multifamily deal. Buses will be rented all at my expense to make this experience the best weekend event you EVER attend!
You have never attended an event like this.  You will get "classroom" and "hands-on field" training at this event. This is not a sell-athon…it is a 2-day training event. During these 2 days you will be personally mentored by me – the 2012 National Apartment Association Independent Owner of the Year who retired not once, but twice in the past 7 years!
All you have to do is RSVP using the links & show up. THOSE WHO RSVP will receive more details about the event! RSVP BELOW!!!
Click Here to RSVP>>

VISIT MY WEBSITE NOW TO SECURE YOUR SEAT!
P.S. Many other weekend events like this are priced at $500 and up.  Some Weekend Real Estate Boot Camps are over $2,000 per person – and have much LESS content and are full of sales pitches. This one is DIFFERENT! I personally teach this entire event and simply walk you thru the exact steps that resulted in Early Retirement for me, and so many others. The only other people you will meet at this Event are other Hundreds of Other Apartment Investors and Members of my Personal Service Provider Rolodex who provide specific services for Apartment Investors.